Scientific Name:
Necturus beyeri
Diagnostic Features:
External gills in adult stage, as well as lungs.

Four reduced limbs, each with four toes.

Laterally compressed tail.
Coloration:
Dark brown with tan flecks and dark spots.

Light ventral surface with dark spots.
Size:
Necturus beyeri can grow to an adult total length of 16-22 cm (6.5-9 in).
General Distribution:
In the United States, the range of Necturus beyeri is split into two populations on either side of the Mississippi River: eastern Texas and western Louisiana, and eastern Louisiana and southern Mississippi.
Behavior:
Necturus beyeri hides under rocks and other debris along the stream edge where it eats crayfish and other invertebrates.
Reproduction:
Breeding in Necturus beyeri occurs from April to June. This salamander has internal fertilization and females lay 40-70 eggs on the stream bottom.
Habitat:
Necturus beyeri is strictly aquatic and is found in the sandy bottoms of spring-fed creeks.
Conservation Status:
The Gulf Coast waterdog is not a protected species in Texas and can be legally collected with a hunting license.
Texas Distribution:
In Texas, Necturus beyeri is found in the central portion of east Texas.
Distribution Map: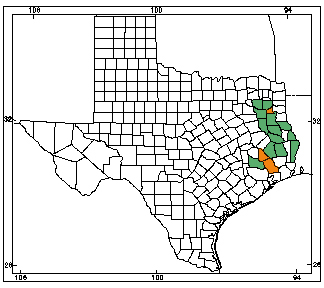 Orange counties indicate new county records since previous Herps of Texas update in 1998; all other colored counties reflect known distribution prior to 1998 for species and/or subspecies. Map is based on museum voucher specimens.