Scientific Name:
Bufo nebulifer
Diagnostic Features:
Cranial crests well defined and form a "valley" between them.

Parotoid glands, connected to the cranial crests, are triangular.

Rather flat toad.
Coloration:
Dorsal color varies from almost black to brownish-yellow.

Broad dark stripe down each side of dorsum, each with light stripes just above.

Additional light middorsal stripe present.

Male throat yellow-green, female throat not pigmented.
Size:
Bufo nebulifer grows to an adult size of 5-10 cm (2-4 in).
General Distribution:
In North America, Bufo nebulifer is found along the Gulf Coast from Louisiana to northern Mexico.
Behavior:
Bufo nebulifer feeds on insects attracted to light sources and is most active at twilight.
Reproduction:
Breeding in Bufo nebulifer takes place from March to September.
Habitat:
The habitat of Bufo nebulifer varies widely from coastal prairies and barrier beaches along the Gulf of Mexico to roadside and irrigation ditches to urban/suburban sewers and backyard gardens.
Conservation Status:
The gulf coast toad is not a protected species in Texas and can be legally collected with a hunting license.
Texas Distribution:
In Texas, Bufo nebulifer is found in central and south Texas, along with the southern portion of east Texas.
Distribution Map: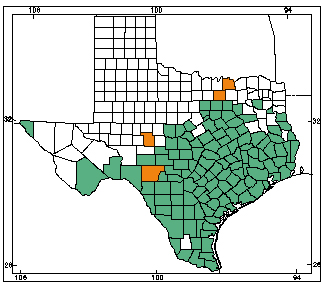 Orange counties indicate new county records since previous Herps of Texas update in 1998; all other colored counties reflect known distribution prior to 1998 for species and/or subspecies. Map is based on museum voucher specimens.