Scientific Name:
Sonora semiannulata
Diagnostic Features:
All S. semiannulata have between 13 and 15 smooth dorsal scale rows at midbody, with the middle of each scale tending to be more darkly colored than the rest of the scale.

Anal plate is divided; loreal scale does not contact the eye; either six or seven supralabial scales.
Coloration:
One of the most variable patterned snakes in the state.

Some snakes may be a dull brown, while others may be entirely orange or red.

Other individuals of S. semiannulata may have stripes running the length of the body, others may have a series of crossbands, whereas others may lack stripes and crossbars completely.

Still others may have a dark collar around their neck, or a black cap on their head, or their stripes may be red, orange or black.

The variety of color patterns seen in the pictures on this page do not encompass all of the forms, but they do show many of the commonly seen patterns.

The ventral surface is free of any pigment, save the underside of the tail which may have crossbanding.
Size:
Adult Sonora semiannulata are typically small 21.5-30.5 cm (8.5-12 in) though certain individuals may reach 42 cm (16.5 in).
General Distribution:
The range of Sonora semiannulata is from central Texas and Kansas, west to California and Nevada; populations of S. semiannulata also extend into northern Mexico.
Behavior:
Not usually seen during the day, the non-venomous Sonora semiannulata is not a threat to humans when handled, never attempting to bite. These small snakes are voracious predators though, feeding on invertebrates such as scorpions, centipedes and spiders. As a result of their prey moving at night, these snakes also are active at night, seeking daytime refuge under rocks and boards. In certain areas of their eastern range in Texas (the juniper-oak woodlands of the hill country, they can be found in groups underneath objects. This grouping behavior is not seen in many species of snakes in Texas.
Reproduction:
This snake species lays eggs, averaging 4 eggs per clutch, with an incubation time of under two months. The juveniles measure 7.5-11.5 cm (3-4.5 in) upon hatching.
Habitat:
Sonora semiannulata is typically a small snake commonly found under rocks, logs, debris piles, or crossing roads at night in the western two thirds of the state of Texas.
Conservation Status:
The groundsnake is not a protected species in Texas and can be legally collected with a hunting license.
Texas Distribution:
In Texas, Sonora semiannulata is found throughout most of Texas, exclusive of the moister eastern quarter of the state.
Distribution Map: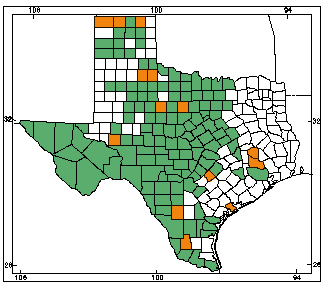 Orange counties indicate new county records since previous Herps of Texas update in 1998; all other colored counties reflect known distribution prior to 1998 for species and/or subspecies. Map is based on museum voucher specimens.