Scientific Name:
Eleutherodactylus planirostris
Family:
Eleutherodactylidae
Diagnostic Features:
Flat, elongated body with pointed snout.
Lack of webbing between the toes.
Coloration:
Brown dorsally, with reddish tones.
White belly.
Reddish eyes.
Two pattern classes:
Striped, with longitudinal light-colored stripes.
Mottled, with dark and light irregular markings.
Size:
Adult Eleutherodactylus planirostris grow to 1.5-3 cm (0.5-1.2 in) total length.
General Distribution:
Native to Cuba, but introduced to many islands around the Caribbean as well as the United States (Florida, Georgia, Mississippi, Louisiana, and Texas), and Mexico.
Behavior:
Primarily nocturnal, the greenhouse frog seeks shelter under vegetation during the day. Essentially any refuge providing a moist microclimate is suitable for this species: greenhouses, dumps, trash piles, and animal burrows. This terrestrial species feeds on ants, beetles, roaches and other small invertebrates.
Reproduction:
Breeds May through September during rainy season. Lay eggs under vegetation or debris. Development (tadpole to froglet) takes place entirely within the egg.
Habitat:
In its native habitat, the greenhouse frog lives in moist valleys and along small streams.
Conservation Status:
The greenhouse frog is not a protected species in Texas and can be legally collected with a hunting license.
Texas Distribution:
In Texas, this species has been introduced to Galveston Island.
Distribution Map: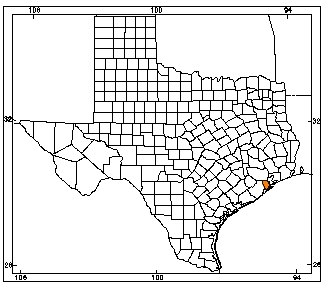 Orange counties indicate new county records since previous Herps of Texas update in 1998; all other colored counties reflect known distribution prior to 1998 for species and/or subspecies. Map is based on museum voucher specimens.