Scientific Name:
Hyla cinerea
Diagnostic Features:
Slim, smooth body and large finger and toe pads.
Coloration:
Typically bright green, with lateral stripes of white or yellow coloration.

Lateral stripes usually extend to groin, but may be much shorter, or even lacking.

Many individuals have small yellow dorsal spots.

White lips.
Size:
Hyla cinerea reaches an adult size between 3-6 cm (1-2.5 in).
General Distribution:
In North America, Hyla cinerea is found in the deep South, from Maryland to Texas.
Behavior:
Hyla cinerea is nocturnal and tends to walk, rather than simply leaping. This treefrog feeds on various insects.
Reproduction:
Breeding occurs form March to October. Males call just before dark. Eggs are laid in a jelly envelope attached to floating plants.
Habitat:
Hyla cinerea prefers wet or moist areas such as swamps, lake sides, and the edges of streams, though it may occasionally be found in brackish water.
Conservation Status:
The green treefrog is not a protected species in Texas and can be legally collected with a hunting license.
Texas Distribution:
In Texas, Hyla cinerea is primarily restricted to the eastern third of the state, including central and south Texas. Unfortunately, this species has been introduced to Big Bend National Park, well outside of its native distribution.
Distribution Map: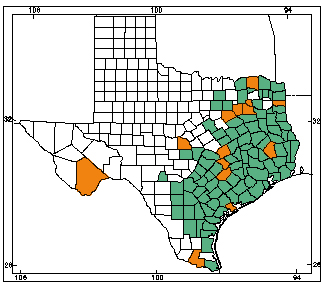 Orange counties indicate new county records since previous Herps of Texas update in 1998; all other colored counties reflect known distribution prior to 1998 for species and/or subspecies. Map is based on museum voucher specimens.