Scientific Name:
Bufo debilis
Diagnostic Features:
Flat head and body.

Parotoid glands large, elliptical, and distinctly separated.

Cranial crests absent.

Numerous warts on dorsal surface.
Coloration:
Two subspecies of Bufo debilis are present in Texas, differentiated by their color pattern: bright green vs. yellow-green.

Throat black or dusky in males, light-colored in females.
Size:
Bufo debilis is the smallest member of the genus Bufo in Texas, with adults only growing to 3-5.5 cm (1.5-2 in).
General Distribution:
In North America, Bufo debilis is concentrated in the Southwest, primarily found in New Mexico, Texas, and northern Mexico.
Behavior:
Bufo debilis is nocturnal and rarely seen unless it is during or after heavy rains, hiding instead under rocks or vegetation. This species may flatten its body against the ground when threatened.
Reproduction:
Breeding in Bufo debilis takes place from March to September coinciding with seasonal heavy rains. Males call from under rocks and clumps of grass or while floating in the water with their heads above the surface. If conditions are not favorable, no breeding occurs.
Habitat:
Bufo debilis is found in arid and semi-arid plains, as well as in open grassy plains.
Conservation Status:
The green toad is not a protected species in Texas and can be legally collected with a hunting license.
Texas Distribution:
In Texas, Bufo debilis is across much of the western two-thirds of the state.
Distribution Map: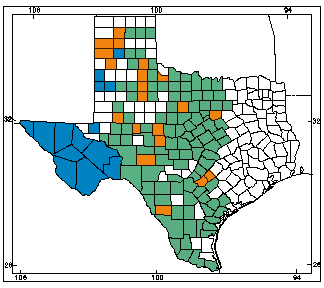 Orange counties indicate new county records since previous Herps of Texas update in 1998; all other colored counties reflect known distribution prior to 1998 for species and/or subspecies. Map is based on museum voucher specimens.