Scientific Name:
Chelonia mydas
Diagnostic Features:
Broad, long heart-shaped carapace with four of pleural scutes (the first pair not in contact with 1st cervical scute).

Posterior edge of carapace slightly serrated.

Unhinged plastron that may have two longitudinal ridges that are lost with age.

Four poreless inframarginals along bridge.

Head with single pair of prefrontals and four postocular scales.

Serrated cutting edge on lower jaw.

Paddle-like front limbs with single claw.
Coloration:
Carapace dark, from brown, olive or black, with mottled pattern.

Plastron yellow to white.

Skin often brown, gray or black and is darker dorsally (with yellow or cream color ventrally).

Head brown with scales bordered in yellow.
Size:
Average adult lengths of Chelonia mydas measure 105-130 cm (42-52 in).
General Distribution:
In North America, the distribution of Chelonia mydas is restricted to the warmer oceanic waters, found along the Atlantic Coast from Massachusetts to Mexico. They are also found along the Pacific Coast south of Baja California.
Behavior:
The green seaturtle is diurnal, feeding during the morning and afternoon hours and spending the warmest portion of the day in deeper (cooler) water. Some populations are year-round residents near the nesting beaches, whereas others may migrate hundreds of kilometers from feeding grounds to reach the nesting beach area. Juvenile green seaturtles are primarily carnivorous, feeding on sponges, jellyfish, crabs, snails, and bivalves in addition to plant matter. Adults are primarily herbivorous, choosing sea grasses, and several different types of algae (red, green, brown) as well as those items listed for juveniles.
Reproduction:
Nesting occurs March through October, but most nests are laid between May and September. Females may lay eggs once every two or three years, laying up to 7 clutches (each clutch averaging 100-120 eggs) during the year the actually nest. Incubation is 50-60 days.
Habitat:
The green seaturtle feeds primarily in shallow waters but can migrate large distances over open seas. Most individuals are found in water less than 50m (167 ft) deep.
Conservation Status:
The green seaturtle is considered a threatened species by the Texas Parks and Wildlife Department and is fully protected by the state. Additional protection has been afforded to this species as the U.S. Fish and Wildlife Service considers the green seaturtle to be a federally threatened species.
Texas Distribution:
In Texas, the single subspecies of Chelonia mydas found in Texas, C. m. mydas, is only known from a handful of localities along the Texas Gulf Coast.
Distribution Map: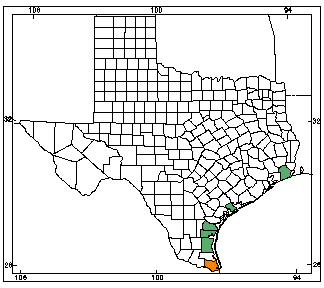 Orange counties indicate new county records since previous Herps of Texas update in 1998; all other colored counties reflect known distribution prior to 1998 for species and/or subspecies. Map is based on museum voucher specimens.