Scientific Name:
Rana clamitans
Diagnostic Features:
Smooth skinned frog with prominent tympanum.

Dorsolateral folds do NOT extend to groin.

Fully webbed feet, except fourth toe.
Coloration:
Plain brown or bronze dorsally.

White ventral surfaces with dark, irregular markings.

Green coloration may be present on upper lip.

Adult male with yellowish coloration on throat.
Size:
Rana clamitans grows to 5-8 cm (2.2-3 in).
General Distribution:
In the United States, Rana clamitans is found in the southern states, from North Carolina to Texas.
Behavior:
Rana clamitans is solitary and nocturnal, remains hidden most of the time.
Reproduction:
Breeding in Rana clamitans occurs from March to August. Small egg masses are attached to underwater vegetation.
Habitat:
Rana clamitans shelters in logs and crevices, and lives in swamps and near streams.
Conservation Status:
The bronze frog is not a protected species in Texas and can be legally collected with a hunting license.
Texas Distribution:
The single subspecies of Rana clamitans found in Texas, R. c. clamitans, is found in the eastern third of the state.
Distribution Map: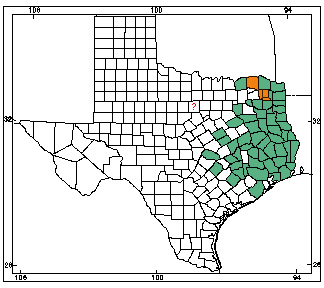 Orange counties indicate new county records since previous Herps of Texas update in 1998; all other colored counties reflect known distribution prior to 1998 for species and/or subspecies. Map is based on museum voucher specimens.