Scientific Name:
Anolis carolinensis
Diagnostic Features:
Small lizard with long claws and a long tail.

Light colored throat and neck.
Coloration:
This lizard possesses the ability to change colors: dorsal ground color ranges from bright green to dark brown.

Dorsal pattern may consist of an irregular brown or white middorsal stripe.

Males with pink dewlap; females with pale pink throat.
Size:
Anolis carolinensis can grow to lengths of 12.5-20 cm (5-8 in), including tail.
General Distribution:
In North America, Anolis carolinensis is found from North Carolina to the Florida Keys to Oklahoma and Texas.
Behavior:
Anolis carolinensis is a diurnal lizard with a small territory, but this territory is aggressively defended. If an intruder approaches, the male will compress its body, extend the dewlap, and bob its head. Male green anoles will engage in combat with other males or chase them away. Color changes are brought on by temperature and light. Anoles feed on various insects and spiders. This lizard also sheds its skin several times a year.
Reproduction:
Breeding occurs for several months beginning in late spring. Males employ head bobbing and dewlap extension in courtship. A single, small, softshell egg is laid among leaf litter.
Habitat:
Anolis carolinensis is an arboreal lizard mostly seen in trees, shrubs, vines, as well as on fences and buildings.
Conservation Status:
The green anole is not a protected species in Texas and can be legally collected with a hunting license.
Texas Distribution:
In Texas, Anolis carolinensis is found across much of central and eastern Texas as well as in portions of the lower Rio Grande Valley.
Distribution Map: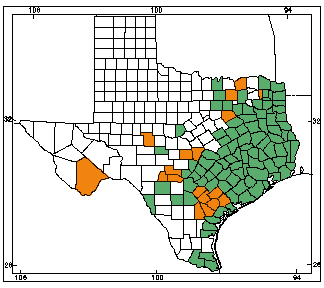 Orange counties indicate new county records since previous Herps of Texas update in 1998; all other colored counties reflect known distribution prior to 1998 for species and/or subspecies. Map is based on museum voucher specimens.