Scientific Name:
Phrynosoma hernandesi
Diagnostic Features:
Flat, broad lizard with short tail.

Crown of short, reddish spines in two distinct formations on the back of the head.

One row of spiny scales on sides of body.

Smooth venter with pale orange coloration on chest.
Coloration:
Dorsal ground color varies from reddish brown to light gray or brown to a pale yellow.

The dorsal pattern consists of pairs of large dark spots with pale posterior borders on the neck and back.

Head is reddish color.
Size:
Phrynosoma hernandesi reaches lengths between 6.25-15 cm (2.5-6 in).
General Distribution:
In North America, the range of Phrynosoma hernandesi extends from Utah and Colorado through Arizona and New Mexico and into West Texas and northern Mexico.
Behavior:
This species of diurnal lizard may cover itself with soil at night. When threatened, this horned lizard will puff up and hiss while pointing its horns forward to appear menacing and may even squirt blood from its eyes. Hibernation in this species is from late fall to mid-spring.
Reproduction:
Mating occurs in the spring upon emergence from hibernation. Up to as many as 30 live young are born in late summer.
Habitat:
Phrynosoma hernandesi inhabits forested areas or semi-arid plains at higher elevations with sandy soil and pebbles.
Conservation Status:
The greater short-horned lizard is considered an threatened species by the Texas Parks and Wildlife Department and is fully protected by the state.
Texas Distribution:
In Texas, Phrynosoma hernandesi is found in two isolated parts of the state: in the Guadalupe Mountains and Davis Mountains.
Distribution Map: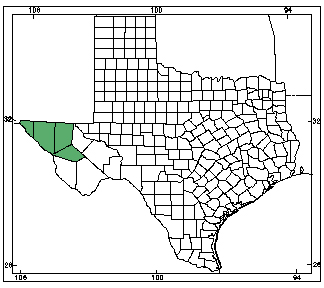 Orange counties indicate new county records since previous Herps of Texas update in 1998; all other colored counties reflect known distribution prior to 1998 for species and/or subspecies. Map is based on museum voucher specimens.