Scientific Name:
Cophosaurus texanus
Diagnostic Features:
Two throat folds (one weak).
No external ear openings.

Flattened body and tail.
Coloration:
Black crossbars on ventral surface of tail.

Two subspecies in Texas are distinguished by dorsal color pattern differences.

Males generally larger with more vivid colorations.

Males have two distinct black lines in a field of blue and yellow anterior to the hind legs that wrap onto the venter and stop abruptly; females and young have distinct dark stripe on back side of each thigh surrounded by a lighter color.

Gravid females take on a pink coloration on their flanks.
Size:
Cophosaurus texanus grow to lengths (including tail) of 7-18 cm (3-7 in).
General Distribution:
In North America, Cophosaurus texanus is found in the Southwest, from Texas to Arizona and into northern Mexico.
Behavior:
Cophosaurus texanus is a quick and active species of diurnal lizard. They run quickly about with their tails raised and they may wave their tails from side to side when slowing to a halt or when they are about to run. This species eats a variety of adult and larval insect prey.
Reproduction:
Clutches of eggs, numbering 2-8 (average of 5), are laid from March to August.
Habitat:
Cophosaurus texanus prefer rocky desert flats, streambeds, and limestone cliffs.
Conservation Status:
The greater earless lizard is not a protected species in Texas and can be legally collected with a hunting license.
Texas Distribution:
In Texas, the two subspecies of Cophosaurus texanus are seen across the western two-thirds of the state.
Distribution Map: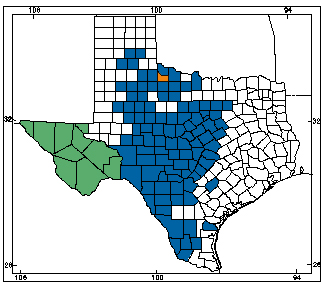 Orange counties indicate new county records since previous Herps of Texas update in 1998; all other colored counties reflect known distribution prior to 1998 for species and/or subspecies. Map is based on museum voucher specimens.