Scientific Name:
Bufo cognatus
Diagnostic Features:
Broad head, short snout.

Long hind legs with digging tubercle.

Cranial crests at rear of head extend forward diagonally to meet at boss.

Elongated parotoid glands behind cranial crests.
Coloration:
Gray, brown, or green, with large dark blotches bordered by lighter color.
Size:
Bufo cognatus typically reaches an adult length of 4.5-9 cm (1.5-4.5 in).
General Distribution:
Bufo cognatus is found in parts of Canada and Montana through the Central Plains states, west into Southern California, Arizona and New Mexico, and south into Mexico.
Behavior:
Bufo cognatus is nocturnal and feeds on insects. When threatened, B. cognatus may camouflage itself by inflating its body and covering its head in the soil.
Reproduction:
Breeding in Bufo cognatus occurs from April to September, typically during or after a rainfall.
Habitat:
Bufo cognatus can be seen in open grasslands, cultivated fields, brushy areas, irrigation ditches, streambeds, and flood plains; B. cognatus prefers a drier habitat than most toads, with loose soil for easy burrowing.
Conservation Status:
The Great Plains toad is not a protected species in Texas and can be legally collected with a hunting license.
Texas Distribution:
In Texas, Bufo cognatus is found in the western half of the state, including the Panhandle.
Distribution Map: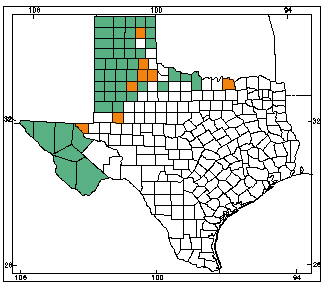 Orange counties indicate new county records since previous Herps of Texas update in 1998; all other colored counties reflect known distribution prior to 1998 for species and/or subspecies. Map is based on museum voucher specimens.