Scientific Name:
Plestiodon obsoletus
Diagnostic Features:
Largest species of skink in Texas.

Broad head and long tail.

Oblique scale rows on sides of body.
Coloration:
Dorsal ground color varies from gray to olive-brown to tan.

Dorsal pattern may appear to be stripes, but it is simply the dark edges of the scales that create the look.

Ventral surface is yellow and unmarked.
Size:
Plestiodon obsoletus is the largest species of skink in the state, with adults measuring between 16-34 cm (6.5-13.5 in) total length.
General Distribution:
In North America, Eumeces obsoletus has a range from Nebraska to Arizona to northern Mexico.
Behavior:
Plestiodon obsoletus is a diurnal skink, but it is secretive and rarely seen in the open. This species feeds on insects, spiders, and occasionally small lizards.
Reproduction:
Breeding takes place in late spring. Females lay up to 21 eggs in burrows and female brooding (guarding) is exhibited. Hatchlings are dark with bright blue tails and orange spots on the head.
Habitat:
Plestiodon obsoletus prefers grasslands in the Great Plains with soil suitable for burrowing. In drier habitats, this species is more frequently seen near permanent water courses.
Conservation Status:
The Great Plains skink is not a protected species in Texas and can be legally collected with a hunting license.
Texas Distribution:
In Texas, Plestiodon obsoletus is found throughout the state, save the eastern third.
Taxonomy Notes:
The North American skinks (north of Mexico) previously placed in the genus Eumeces are now restricted to the genus Plestiodon (Brandley et al. 2005, Systematic Biology 54:373-390).
Distribution Map: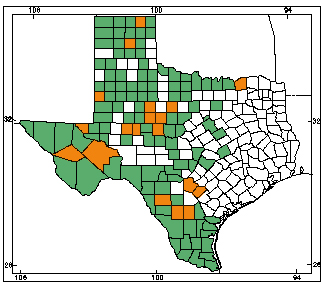 Orange counties indicate new county records since previous Herps of Texas update in 1998; all other colored counties reflect known distribution prior to 1998 for species and/or subspecies. Map is based on museum voucher specimens.