Scientific Name:
Pantherophis emoryi
Diagnostic Features:
The differences seen in the numbers of ventral and caudal scales, which are sometimes used as distinguishing characters between the taxa, cannot be used reliably as variation within each taxa is large.

Dorsal scales are smooth, in rows of either 27 or 29 at midbody.

Anal plate is divided.
Coloration:
Two brown stripes that come together in a point on the top of its head between the eyes.

The brown stripes, along with corresponding brown blotches along the middle of the back, are highly visible against the light tan background.

In both subspecies, the belly is mostly white with black markings forming a feeble checkerboard pattern.

Pigment on the underside of the tail forms two lines that run the length of the tail.

Number of dorsal blotches is the primary character used to separate the two subspecies in Texas: Pantherophis emoryi emoryi has more blotches (45 or more) than P. e. meahllmorum (44.5 or less).
Size:
Adult Pantherophis emoryi generally measure 76-106.5 cm (30-42 in), though some may reach 152.5 cm (60 in).
General Distribution:
Pantherophis emoryi is found in many of the south central U.S. states including Kansas, Oklahoma, New Mexico, Louisiana, Arkansas and Texas; Pantherophis emoryi is also found in several adjacent northern Mexico states.
Behavior:
Primarily nocturnal, Pantherophis emoryi can be seen crossing rural roads near water or moisture from April to September or October. They are non-venomous, but they may still act very fierce and will even bite when handled or molested, leaving small gashes in one's flesh. Like many ratsnakes, P. emoryi will often vibrate its tail when disturbed. Their prey consists of various mammals, birds, frogs, toads, and lizards. They have been known to wait outside of bat roosts at dusk, waiting to snatch from midair an unsuspecting mammal as its flies out of its daytime retreat. These ratsnakes can be found during the day by flipping rocks or debris near areas of moisture, a precious commodity in much of central and west Texas. Also associated with human habitation, P. emoryi have been captured in the middle of El Paso, Texas, hiding under boards near several chicken coops.
Reproduction:
These snakes breed in the spring, with as many as 14 eggs being laid in the early summer months. Juveniles, measuring between 14-24 cm (5.5-9.5 in), hatch in August and September.
Habitat:
Pantherophis emoryi can be found throughout much of Texas, generally associated with moist riparian zones or agricultural areas.
Conservation Status:
The great plains ratsnake is not a protected species in Texas and can be legally collected with a hunting license.
Texas Distribution:
Pantherophis emoryi is found throughout the western and southern halves of the state, from the Panhandle and Trans-Pecos, east through the Red River Valley and Edwards Plateau, and then south to the Texas Gulf Coast and southern Rio Grande Valley.
Taxonomy Notes:
Formerly Elaphe, the North American ratsnakes have been restricted to the genus Pantherophis by Utiger et al. (2002, Russian J. Herpetology 9:105-124).
Distribution Map: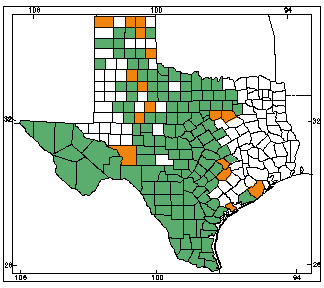 Orange counties indicate new county records since previous Herps of Texas update in 1998; all other colored counties reflect known distribution prior to 1998 for species and/or subspecies. Map is based on museum voucher specimens.