Scientific Name:
Gastrophryne olivacea
Diagnostic Features:
Small, oval body with smooth skin.

Small head with pointed snout and fold of skin immediately behind eyes.

Hind feet are not webbed; each foot with a single tubercle.
Coloration:
Dorsal color varies with environment; can be gray, tan, or olive green.

Small black spots may appear on dorsum.

Ventral surface light and unmarked.

Adult males with dark throat.
Size:
Gastrophryne olivacea reaches an adult length of 2-4 cm (0.8-1.5 in).
General Distribution:
In North America, Gastrophryne olivacea is found as far north as Nebraska and as far south as Tamaulipas, Mexico.
Behavior:
Gastrophryne olivacea typically hides under rocks and other debris in damp places and feeds mainly on ants.
Reproduction:
Breeding in Gastrophryne olivacea occurs from March to September in rain-filled pools.
Habitat:
Gastrophryne olivacea is seen in moist areas, in grasslands and on rocky slopes. Gastrophryne olivacea may also be found in rodent, reptile, and tarantula burrows.
Conservation Status:
The Great Plains narrow-mouthed toad is not a protected species in Texas and can be legally collected with a hunting license.
Texas Distribution:
In Texas, Gastrophryne olivacea is found in most of the state, except in far East Texas, the Panhandle, and the extreme western tip of Texas.
Distribution Map: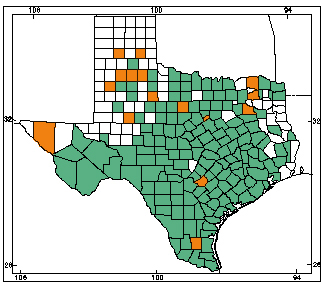 Orange counties indicate new county records since previous Herps of Texas update in 1998; all other colored counties reflect known distribution prior to 1998 for species and/or subspecies. Map is based on museum voucher specimens.