Scientific Name:
Hyla versicolor
Diagnostic Features:
Comparatively large treefrog with large toe pads and a warty dorsal surface.

Although these are two separate species, they are often mistaken one for the other. Because of their amazing physical similarities, as well as that of habitat and range, the only way to distinguish between them is by call. Hyla versicolor has a slow trill, while Hyla chrysoscelis has a faster, higher pitched trill. Therefore, the diagnostic features, natural history, and range listed here apply to both species.
Coloration:
Background color is usually gray or olive green, but highly variable with environment.

Bright orange or yellow color on hidden surfaces of thighs.

Discernible light spot under eyes.

Dark bars on hind limbs.
Size:
Hyla versicolor reaches an adult size between 3-5 cm (1-2 in).
General Distribution:
In North America, Hyla chrysoscelis/H. versicolor is found from Maine in the north and northern Florida in the south, to just west of the Mississippi River.
Behavior:
Hyla versicolor is nocturnal and forage in the trees and shrubs, descending to the ground only to breed.
Reproduction:
Breeding occurs from March to July, depending on the temperature.
Habitat:
Hyla versicolor is typically found in wooded areas, often near rivers and creeks.
Conservation Status:
The gray treefrog is not a protected species in Texas and can be legally collected with a hunting license.
Texas Distribution:
In Texas, Hyla chrysoscelis/H. versicolor is found in the eastern half of the state.
Distribution Map: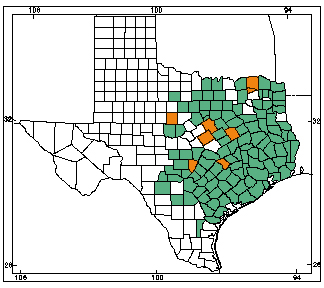 Orange counties indicate new county records since previous Herps of Texas update in 1998; all other colored counties reflect known distribution prior to 1998 for species and/or subspecies. Map is based on museum voucher specimens.