Scientific Name:
Aspidoscelis dixoni
Diagnostic Features:
Slender lizard with small, granular dorsal scales.

Belly with 8 rows of large, rectangular scales.
Coloration:
Dorsal ground color is black.

Dorsal pattern consists of 10-12 light stripes and a sprinkling of light colored scales, giving a checkered effect.

Tail at base and hips with rusty red coloration.

Ventral surface is white and unmarked.
Size:
Adult Aspidoscelis dixoni can grow to a total length 20-31 cm (8-12.5 in).
General Distribution:
In North America, Aspidoscelis dixoni is restricted to two small populations, one in New Mexico and the other in Texas.
Behavior:
This diurnal lizard actively forages for insects under low shrubs. Aspidoscelis dixoni is very wary, and quickly retreats to a nearby burrow if threatened.
Reproduction:
No males of Aspidoscelis dixoni exist, the species is entirely comprised of females. Reproduction occurs through parthenogenesis. Unfertilized eggs are laid in midsummer. Hatchlings appear six weeks later.
Habitat:
This lizard can be seen in gravelly areas such as dry riverbeds and floodplains with sparse vegetation.
Conservation Status:
The gray checkered whiptail is not a protected species in Texas and can be legally collected with a hunting license.
Texas Distribution:
Aspidoscelis dixoni is only found in a small part of Presidio County in the Big Bend region of Texas.
Distribution Map: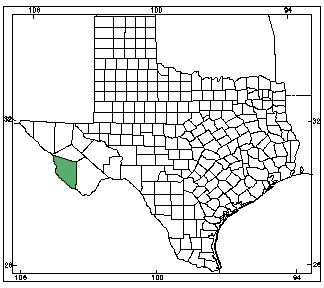 Orange counties indicate new county records since previous Herps of Texas update in 1998; all other colored counties reflect known distribution prior to 1998 for species and/or subspecies. Map is based on museum voucher specimens.