Scientific Name:
Lampropeltis alterna
Diagnostic Features:
Round pupils.
Undivided anal plate.
Smooth dorsal scales, in rows of 25 at midbody.
Coloration:
Highly variable pattern of red saddles or blotches on a light to dark gray background.

Ventral surface is gray, with black blotches.

Two different types of dorsal surface markings have warranted distinct names by collectors:

The "blairi" phase (named for former Univ. Texas herpetologist Frank Blair) can be highly variable, with large saddles of red or orange bounded on either side by thin black rings. The saddles are separated by large bands of gray or black-gray background color, with the dark borders of the saddles sometimes ringed with a white edging.

The "alterna" phase comprised a series (13-23) of thin black bands, occasionally split by red, which are separated by large amounts of gray background.

The "blairi" phase snakes are thought to be more southern and eastern in the overall range, and the "alterna" phase is the more northern ranging snake.
Size:
Adult gray-banded kingsnakes typically measure 61-91 cm (24-36 in); record length is over 116 cm (57 in).
General Distribution:
The U.S. distribution of Lampropeltis alterna is restricted to the Trans-Pecos region of Texas, with the exception of two or three individuals taken from the vicinity of Carlsbad in Eddy County, New Mexico. The range of L. alterna also extends into Mexico, into the states of Chihuahua, Coahuila, Durango and Nuevo Leon.
Behavior:
Lampropeltis alterna is a non-venomous snake species that kills its prey via constriction. In the wild, L. alterna feeds mainly on lizards that are likely found sleeping in rock crevices at night, though rodents are occasionally taken; gray-banded kingsnakes have been reared in captivity on solely on a diet of rodents. Primarily a nocturnal species, gray-banded kingsnakes are rarely seen during the day, with activity often concentrated during the four or five hours before dawn.
Reproduction:
Much has been learned about their reproductive natural history as a result of the massive captive breeding programs. These kingsnakes will lay as many as 13 eggs during the spring or early summer, with the juveniles hatching a little over two months later, measuring 26-32 cm (10-13 in).
Habitat:
Lampropeltis alterna is found in the rocky, arid regions of the Chihuahuan Desert.
Conservation Status:
The gray-banded kingsnake is not a protected species in Texas and can be legally collected with a hunting license.
Texas Distribution:
In Texas, Lampropeltis alterna are found from the Hueco Mts., just outside of El Paso eastward to the counties of Edwards and Kinney; they are also found in Big Bend.
Distribution Map: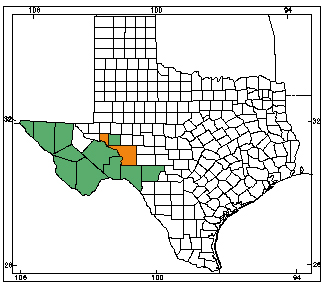 Orange counties indicate new county records since previous Herps of Texas update in 1998; all other colored counties reflect known distribution prior to 1998 for species and/or subspecies. Map is based on museum voucher specimens.