Scientific Name:
Sceloporus grammicus
Diagnostic Features:
Flat lizard with scales on sides of neck much smaller than those on nape of neck.

Tail slightly longer than head-body length.
Coloration:
Dorsal ground color is mottled olive or gray.

Dorsal pattern consists of 3-6 dark crossbars in uneven, or wavy pattern.

Narrow crossbars on forelegs and tail.

Males have blue patches and black mottling on throat, a dark line on each shoulder, and blue patches on sides of belly, which may be bordered in black.

Dorsal pattern may be more obvious on females.
Size:
Sceloporus grammicus can grow to adult lengths of 10-17.5 cm (4-7 in), including tail.
General Distribution:
In North America, Sceloporus grammicus is found in southern Texas and northern Mexico.
Behavior:
A diurnal lizard, Sceloporus grammicus is very wary and will retreat up the tree when threatened. This species is arboreal and well camouflaged among the branches, often hiding on the side of the branch opposite their predator.
Reproduction:
Breeding occurs in the fall and young are born live in the early to mid-spring. Litter sizes range from 3 to 12.
Habitat:
Sceloporus grammicus lives on and among mesquite trees in arid and semi-arid environments.
Conservation Status:
The graphic spiny lizard is not a protected species in Texas and can be legally collected with a hunting license.
Texas Distribution:
The single subspecies of Sceloporus grammicus found in Texas, S. g. microlepidotus, is found in extreme south Texas and near Corpus Christi.
Distribution Map: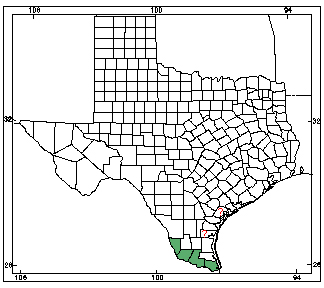 Orange counties indicate new county records since previous Herps of Texas update in 1998; all other colored counties reflect known distribution prior to 1998 for species and/or subspecies. Map is based on museum voucher specimens.