Scientific Name:
Pituophis catenifer
Diagnostic Features:
Dorsal scales are keeled, especially along the spine (usually in rows of 31 or 33 at midbody).
Anal plate is undivided.
Coloration:
Head is a yellowish tan, with a brown stripe running between the eyes.

Top of head often speckled with brown spots of pigment.

Number of dorsal blotches is generally greater than 40, with the blotches on the tail forming a striking crossband pattern.

Belly is either white, yellow, or cream colored with dark flecks of pigment scattered throughout the ventral surface.
Size:
Pituophis catenifer is a large bodied snake, reaching average lengths of 1-1.5 m (3-5 ft), with a record individual measuring 233 cm (92 in).
General Distribution:
Pituophis catenifer is found from the West Coast to the southcentral states of the U.S., as well as into adjacent northern Mexico.
Behavior:
A commonly encountered snake, Pituophis catenifer is seen as a highly beneficial, non-venomous predator. They feed heavily on mice and are frequently seen around areas of agriculture, areas which attract many rodents which are viewed as pests. Not only are mammals eaten, but many birds, bird eggs, and lizards are also taken as prey by P. catenifer. They have been occassionally found in the low branches of trees and the upper portions of cacti ostensibly looking for bird nests full of eggs. When molested, P. catenifer will often vibrate its tail and take large amounts of air into its lungs. After gulping this air, the snake expels it rapidly through its glottis and modified epiglottis to make a loud hissing noise, enough to scare off most would-be predators. With persistant disturbance, P. catenifer will strike out at its aggressor from an S-shaped coil (not unlike that of a rattlesnake), biting and causing minor wounds in the attacker's soft flesh.
Reproduction:
Courtship takes place in the spring and the large, white eggs (clutch size between 3-22) are laid in the soil during June and July. Hatchlings emerge in the early fall months after an incubation of about two months, measuring 33-44 cm (13-17 in).
Habitat:
Pituophis catenifer is a common inhabitant of the deserts and grasslands of the midwest,
Conservation Status:
The gophersnake is not a protected species in Texas and can be legally collected with a hunting license.
Texas Distribution:
In Texas, Pituophis catenifer throughout most of Texas, save the eastern quarter of the state.
Distribution Map: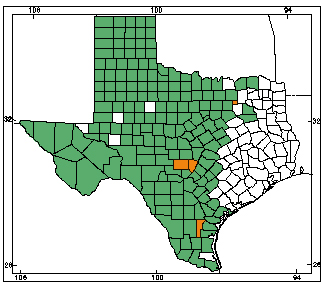 Orange counties indicate new county records since previous Herps of Texas update in 1998; all other colored counties reflect known distribution prior to 1998 for species and/or subspecies. Map is based on museum voucher specimens.