Scientific Name:
Arizona elegans
Diagnostic Features:
Undivided anal scale.
Smooth dorsal scales.
Faintly elliptical pupils.
Coloration:
Background color of cream to light tan.

A series of brown blotches along the middle of the back.

A pale longitudinal line behind the head along the spine.

The number of blotches is a character used to discriminate between the three different subspecies.
Size:
Glossy snakes can reach lengths of 40-142 cm (16-56 in); record 141 cm (55.5 in)
General Distribution:
In the United States, Arizona elegans is found in Arizona, California, Colorado, Kansas, Nebraska, Nevada, New Mexico, Oklahoma, and Texas; Arizona elegans can also be found in much of the northern half of Mexico.
Behavior:
Glossy snakes are non-venomous and but like many snakes, they may bite if provoked. Their countersunk lower jaw enables them to burrow into loose soil quickly. They are nocturnal, feeding on small mammals, lizards, and other snakes during evening while remaining in underground burrows during the day. Glossy snakes may often be encountered on roads at night during April - September.
Reproduction:
Breeding typically occurs in early summer, with as many as 23 eggs (range 3-23) laid in late summer. Young hatch in September or October, they generally range from 22-28 cm (9-11 in) in length.
Habitat:
Glossy snakes are commonly associated with sandy soils found in a variety of different habitats: creosote flats, grasslands, and sagebrush plains.
Conservation Status:
The glossy snake is not a protected species in Texas and can be legally collected with a hunting license.
Texas Distribution:
Arizona elegans is found primarily across the western three-fourths of the state, but there are some scattered records in the eastern counties.
Distribution Map: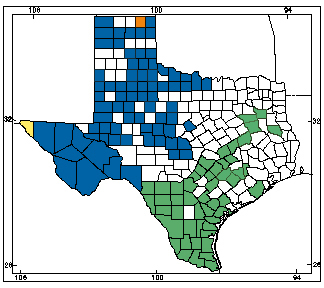 Colored counties reflect subspecies. Map is based on museum voucher specimens; last updated 12 November 2014.