Scientific Name:
Aspidoscelis gularis
Diagnostic Features:
Slender lizard with comparatively long tail, about 3 times the head-body length.

Small, granular dorsal scales with enlarged scales on back of forelimbs and along front edge of throat.

Belly with 8 rows of large, rectangular scales.
Coloration:
Dorsal ground color is brown or green-brown.

Dorsal pattern consists of 7 light stripes that run from the head to the hips with the broad middorsal stripe split into two lines in some specimens; light colored spots occur on the sides between the stripes.

Tail is pink to orange.

Adults with sexually dimorphic coloration: males with red throat, blue belly, and black or blue coloration on chest; females with pink throat and white, unmarked belly.
Size:
Maximum total length in Aspidoscelis gularis ranges from 16-28 cm (6.5-11 in).
General Distribution:
In North America, Aspidoscelis gularis has a broad range throughout most of Texas, parts of Oklahoma and New Mexico, and into northeastern Mexico.
Behavior:
This diurnal lizard actively forages for termites, caterpillars, and large insects in sand and debris. Aspidoscelis gularis will run if threatened, but generally it is not as wary as other whiptails.
Reproduction:
Breeding occurs in the spring and eggs are laid in May and June. Females lay 1-5 eggs. A second clutch may be laid in late July. Hatchlings have pink or red tails and hips.
Habitat:
Aspidoscelis gularis can be seen in a variety of habitats ranging from rocky slopes near floodplains to prairies to canyons and is almost always near a watercourse.
Conservation Status:
The Texas spotted whiptailis not a protected species in Texas and can be legally collected with a hunting license.
Texas Distribution:
In Texas, Aspidoscelis gularis is found throughout much of the state except extreme west, north, and east Texas.
Distribution Map: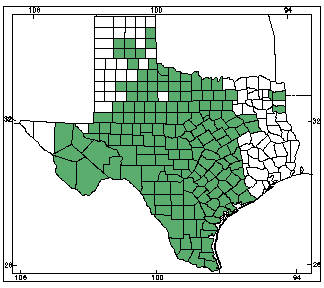 Orange counties indicate new county records since previous Herps of Texas update in 1998; all other colored counties reflect known distribution prior to 1998 for species and/or subspecies. Map is based on museum voucher specimens.