Scientific Name:
Coluber constrictor
Diagnostic Features:
Of the five recognized subspecies of C. constrictor in Texas, some appear quite similar to each other, others are quite unique.
All five share the characteristics of smooth dorsal scales, (17 rows at midbody and 15 rows anterior to the vent), a divided anal plate, and an angular head.
Coloration:
The dorsal coloration varies between the five subspecies of Coluber constrictor found in Texas.

Juveniles of most subspecies look tremendously different than their parents as they have a pattern of vertebral blotches which are typically lost during the neonates second year.
Size:
Adult lengths may vary between 51-152.5 cm (20-60 in).
General Distribution:
There are nine subspecies of Coluber constrictor that are found across much of the United States east of the Continental Divide; additional subspecies range into northeastern Mexico.
Behavior:
One of the few truly diurnal snakes in Texas, the slender body and, generally, uniform pattern of C. constrictor make it difficult to catch or even seen when moving through underbrush. Non-venomous, these nervous snakes will not hesitate to bite or strike if captured. The prey of C. constrictor ranges from small mammals to reptiles and amphibians. Insects may also be taken, especially when the snakes are juvenile.
Reproduction:
Adults usually mate in the spring and the females lay clutches of as many as 30 eggs from May to early August Incubation may last as long as 50 days with the juveniles measuring between 23-30.5 cm (9-12 in).
Habitat:
Coluber constrictor is typically found in open areas with large amounts of undergrowth. Abandoned fields and farmlands, as well as edges of forest are suitable habitats for most of the five subspecies. Coluber c. etheridgei enjoys closed canopy wooded areas instead of the open areas like the other four subspecies.
Conservation Status:
The eastern racer is not a protected species in Texas and can be legally collected with a hunting license.
Texas Distribution:
Coluber constrictor is found throughout most of Texas, save the western portions of the Trans-Pecos and Panhandle, as well as isolated portions of south Texas.
Distribution Map: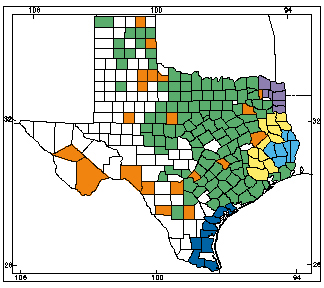 Orange counties indicate new county records since previous Herps of Texas update in 1998; all other colored counties reflect known distribution prior to 1998 for species and/or subspecies. Map is based on museum voucher specimens.