Scientific Name:
Salvadora grahamiae
Diagnostic Features:
Upturned rostral scale.
Smooth dorsal scales (in 17 rows at midbody).
Divided anal plate.
Coloration:
Two dark dorsolateral lines run the length of the body, on top of a tannish background.

These two dark lines outline a light colored (tan, orange, or yellow) middorsal stripe, which is colored differently than the tan sides of the body.

The presence or absence of a secondary dark lateral line distinguishes between the two subspecies currently recognized in Texas.

Both subspecies with a peach or cream colored belly.

Light vertebral stripe is supposedly wider in S. g. grahamiae (3 scale rows wide vs. 2 scale rows wide in S. g. lineata), but there appears to be too much variability to make this character applicable.
Size:
Salvadora grahamiae grow to adult lengths of 46-86 cm (18-34 in).
General Distribution:
Salvadora grahamiae is found through much of south, central and west Texas, as well as the higher elevations of New Mexico and southern Arizona; the range of S. grahamiae extends into Mexico as well, being found well into Coahuila and Durango.
Behavior:
Eastern patch-nosed snakes typically forage during the early morning hours for lizards and small mammals, though they can be found hiding under boards, flat stones, and dead vegetation. These snakes also appear to have a long period of activity, from March to November, meaning their crepuscular activity switches to diurnal during the early spring and late fall. Salvadora generally do not bite when handled, though they will often musk their handler.
Reproduction:
Reproduction takes place in the early spring, with clutches of eggs laid in May and June. Young hatch out in August, measuring 26 cm (10 in) in length and look much like their parents, though paler in color.
Habitat:
Salvadora grahamiae is generally found in the higher, more vegetated areas of central and west Texas, present from the juniper wooded Hill Country, into the Chihuahuan Desert of Big Bend and the Trans-Pecos, where it can be found sympatrically with S. deserticola. It is also found less commonly in the thornscrub areas of south Texas.
Conservation Status:
The eastern patch-nosed snake is not a protected species in Texas and can be legally collected with a hunting license.
Texas Distribution:
In Texas, Salvadora grahamiae is found across much of the western half, as well as the southern portions, of the state.
Distribution Map: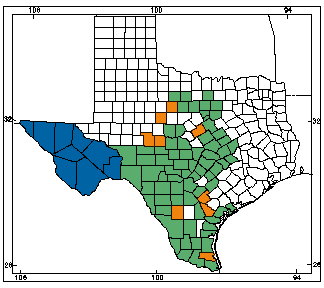 Orange counties indicate new county records since previous Herps of Texas update in 1998; all other colored counties reflect known distribution prior to 1998 for species and/or subspecies. Map is based on museum voucher specimens.