Scientific Name:
Notophthalamus viridescens
Diagnostic Features:
Adult: stout newt with relatively small head, short limbs, and a vertically compressed tail.

Eft: rounded tail.
Coloration:
Adult: yellow-brown to dark brown dorsum and yellow venter with numerous black spots n ventral surface.

Eft: red-orange color with little spotting.
Size:
As adults, aquatic Notophthalamus viridescens grow to 6-13 cm (2.5-5.5 in) total length.
Terrestrial efts of this species grow between 3-8 cm (1.4-3.4 in) in total length.
General Distribution:
In North America, Notophthalamus viridescens is found from Lake Superior south to Texas and eastward to South Carolina.
Behavior:
Adult Notophthalamus viridescens find shelter among submerged rocks and feed on insects, mollusks, leeches, and small amphibians. They have toxic secretions from skin glands with which to deter predators. The eft is terrestrial and is active during or after rains.
Reproduction:
Breeding in occurs in late winter to early spring. Females lay up to 200-400 eggs and attach them singly to submerged vegetation in shallow waters.
Habitat:
Adult Notophthalamus viridescens are found in the shallow waters of streams with vegetative cover, such as in ditches, swamps, and ponds. Land-stage efts are found on the forest floor.
Conservation Status:
The eastern newt is not a protected species in Texas and can be legally collected with a hunting license.
Texas Distribution:
In Texas, Notophthalamus viridescens is found in the eastern third of the state.
Distribution Map: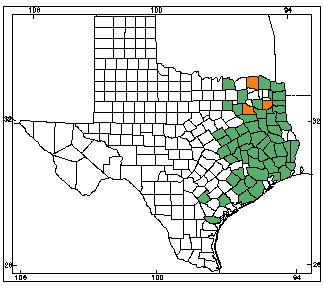 Orange counties indicate new county records since previous Herps of Texas update in 1998; all other colored counties reflect known distribution prior to 1998 for species and/or subspecies. Map is based on museum voucher specimens.