Scientific Name:
Gastrophryne carolinensis
Diagnostic Features:
Small, oval body with smooth skin

Small head with pointed snout and fold of skin immediately behind eyes.

Hind feet are not webbed; each foot with a single tubercle.
Coloration:
Dorsal color varies with environment; may be brown, gray, or reddish.

Dark spots in mottled pattern on dorsum may obscure dark dorsum with light stripes.

Ventral surface is heavily mottled.

Adult males with dark throat.
Size:
Gastrophyrne carolinensis grows to an adult size of 2-4 cm (0.8-1.5 in).
General Distribution:
In North America, Gastrophyrne carolinensis is found throughout much of the southern United States.
Behavior:
Gastrophyrne carolinensis feeds mainly on ants, but eats a variety of insects. It remains underground or hidden in debris during the day.
Reproduction:
Breeding in Gastrophyrne carolinensis takes place from March to September with rain; males call while floating in water with forelimbs resting on a stem or twig.
Habitat:
Gastrophyrne carolinensis prefers areas of ample moisture and cover and is often found near ponds with fallen logs and other debris.
Conservation Status:
The eastern narrow-mouthed toad is not a protected species in Texas and can be legally collected with a hunting license.
Texas Distribution:
In Texas, Gastrophyrne carolinensis is found in the eastern half of the state.
Distribution Map: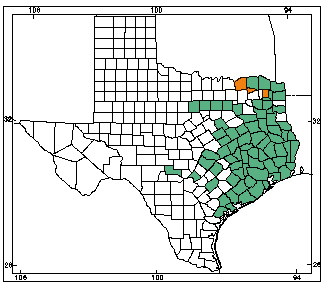 Orange counties indicate new county records since previous Herps of Texas update in 1998; all other colored counties reflect known distribution prior to 1998 for species and/or subspecies. Map is based on museum voucher specimens.