Scientific Name:
Crotaphytus collaris
Diagnostic Features:
Slender neck and large, broad head.

Black throat lining.

Rounded body with small scales.
Coloration:
Dorsal ground color varies with age, sex and location from dark green to blue or light brown to pale yellow.

Head, body, legs, and tail are sprinkled with small white spots.

Darker red, yellow, or brown bands across body may be present.

Two black collar markings are distinctive.

Vibrant green dorsal coloration of males generally more vivid than females.

Males with yellow or orange throats.

Females have red spots on sides and neck when gravid.
Size:
Adult Crotaphytus collaris grow to lengths of 20-35 cm (8-14 in), including tail.
General Distribution:
In North America, Crotaphytus collaris is found from eastern Missouri west to Utah and south to Texas and northern Mexico.
Behavior:
This wary lizard is quick to take cover and can easily jump from rock to rock or run away on their hind limbs. When escape is not possible, collared lizards will try to appear threatening with its mouth open ready to bite. This lizard species is diurnal and a hearty eater, consuming insects, spiders, snakes, and smaller lizards. It may run on its hind limbs in pursuit of prey.
Reproduction:
Breeding takes place from April to June with egg clutches (4-24) laid in loose, sandy soil or burrows around July. The young are distinctively marked with dark cross bands which fade with age.
Habitat:
The eastern collared lizard lives and basks among rock piles in arid or semi-arid environments. This lizard also prefers limestone ledges which provide many crevices for protection and open spaces for running.
Conservation Status:
The eastern collared lizard is not a protected species in Texas and can be legally collected with a hunting license.
Texas Distribution:
In Texas, Crotaphytus collaris is found in the central and western portions of the state.
Distribution Map: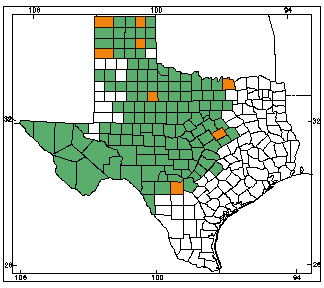 Orange counties indicate new county records since previous Herps of Texas update in 1998; all other colored counties reflect known distribution prior to 1998 for species and/or subspecies. Map is based on museum voucher specimens.