Scientific Name:
Terrapene carolina
Diagnostic Features:
High-domed carapace, not serrated posteriorly.

Three toes on rear feet.

Transverse hinge across plastron.

Upper jaw with downturned "beak" without notch.

Vertebral keel (without dorsal projections) on vertebral scutes 2-4.
Coloration:
Carapace tan, brown, or olive.

Obscure pattern of radiating stripes on scutes, with dark seams.

Plastron dark brown or tan; plastron with or without pattern and/or radiating lines.

Skin brown or black with spots or streaks of yellow, orange, or red on limbs and head.

Males may have entirely red heads; Adult males commonly with red iris and females with yellow or brown iris.
Size:
The carapace length of an adult Terrapene carolina typically measures between 11-13 cm (4.5-5 in).
General Distribution:
In North America, Terrapene carolina is found in much of the eastern half of the United States, from Texas to Florida, and as far north as Maine.
Behavior:
The eastern box turtle may bask earlier in the morning and in the afternoon, avoiding the heat of the day by retreating to burrows or shelters under logs or vegetation. Primarily a terrestrial turtle, this species can even be found wading in water or mud to escape the heat. Truly a omnivorous species, this box turtle eats vegetable matter (fruits, roots, and seeds) as well as animal matter (many smaller vertebrates as well as insects and earthworms).
Reproduction:
Nesting occurs May through July, with females laying an average of 4 to 5 eggs per clutch. Females may lay up to 5 clutches per year. Incubation is 70-80 days.
Habitat:
The eastern box turtle is commonly found across throughout open woodlands as well as grasslands and meadows.
Conservation Status:
The eastern box turtle is not a protected species in Texas and can be legally collected with a hunting license.
Texas Distribution:
In Texas, the single subspecies of Terrapene carolina, T. c. triunguis, is found across the eastern third of the state, but can be found as far west as Kimble and McCulloch counties.
Distribution Map: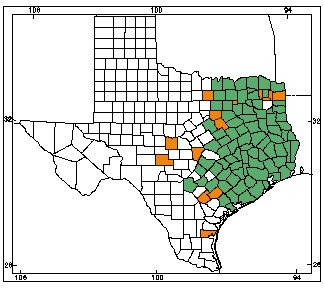 Orange counties indicate new county records since previous Herps of Texas update in 1998; all other colored counties reflect known distribution prior to 1998 for species and/or subspecies. Map is based on museum voucher specimens.