Scientific Name:
Bufo velatus
Diagnostic Features:
a dark pectoral region breaking apart into dark spots to the belly.
cranial crests that touch the parotoid glands behind the eye.
three or more warts in each large spot on the dorsal surface.
no enlarged warts on the tibia.
a supratympanic ridge is present.
Coloration:
General dorsal coloration may be uniform yellowish-brown, brown, greenish-brown, or nearly black with many having an overlaying of reddish wash.
Belly with dark stippling on pectoral region. May have narrow light mid-dorsal stripe and light lateral stripes.
Size:
Adult East Texas Toads average 50-75 mm (2-3 in) in length.
Reproduction:
Dependent on rains, reproduction takes place March through August (typically highest March-April). Eggs are laid in long strings in shallow water
Habitat:
Bufo velatus can be found along marshes and in deciduous woodlands as well as sandy areas near irrigation ditches and temporary rain pools.
Conservation Status:
The East Texas Toad is not a protected species in Texas.
Texas Distribution:
Restricted to eastern quarter of the state.
Taxonomy Notes:
The validity of this species has been contentious over the years. Some writers refuse to recognize Bufo velatus believing it to be of hybrid origin though molecular evidence is wanting; others consider it a valid species based on its distinct call, spotted/dark pectoral region, and presence of a supertympanic ridge.
Distribution Map: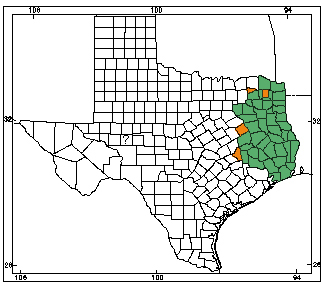 Orange counties indicate new county records since previous Herps of Texas update in 1998; all other colored counties reflect known distribution prior to 1998 for species and/or subspecies. Map is based on museum voucher specimens.