Scientific Name:
Eurycea quadridigitata
Diagnostic Features:
Slender body and tail.

Small head with large, protruding eyes.

No external gills.

Relatively long tail (as much as 1 1/2 times the head-body length).

Four toes on ALL feet.

Fourteen to seventeen costal grooves.
Coloration:
Yellow-brown with dark stripes down each side of the back extending onto tail, though color and pattern can vary widely.
Size:
Eurycea quadridigitata can grow to an adult size of 5-9 cm (2-3.5 in) total length.
General Distribution:
In North America, Eurycea quadridigitata is found in the Coastal Plains states from North Carolina to Texas.
Behavior:
Eurycea quadridigitata remains under vegetative cover most of the time.
Reproduction:
Breeding in Eurycea quadridigitata occurs in the fall months. Females lay 12-48 eggs and attach them singly or in small clutches to submerged debris in shallow water.
Habitat:
Eurycea quadridigitata prefers moist, debris-covered areas and swampy areas in pine woods.
Conservation Status:
The dwarf salamander is not a protected species in Texas and can be legally collected with a hunting license.
Texas Distribution:
In Texas, Eurycea quadridigitata is found throughout east Texas.
Distribution Map: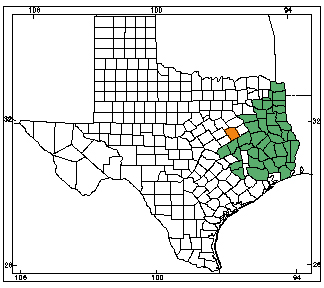 Orange counties indicate new county records since previous Herps of Texas update in 1998; all other colored counties reflect known distribution prior to 1998 for species and/or subspecies. Map is based on museum voucher specimens.