Scientific Name:
Sceloporus arenicolous
Diagnostic Features:
Small, granular scales on rear of thighs.

Tail slightly longer than head-body length.
Coloration:
Dorsal ground color is light gray to light brown.

Dorsal pattern consists of a faint line from the head to the tip of the tail.

Small dark marking in front of each foreleg.

Male with blue patches on venter bordered by black; female may have pink tones on neck and sides.
Size:
Sceloporus arenicolous can grow to adult total lengths of 11-15 cm (4.5-6 in).
General Distribution:
In North America, Sceloporus arenicolous is found exclusively in active sand dune areas of west Texas and New Mexico.
Behavior:
Sceloporus arenicolous, active during the day, will remain motionless and seek shelter under vegetation, or will cover itself in sand when threatened. The dorsal background color of this species makes it well camouflaged among the dunes. Sceloporus arenicolous principally feeds upon insects.
Reproduction:
Eggs are laid in early summer.
Habitat:
Sceloporus arenicolous lives among sand dunes dominated by shinnery oak (Quercus havardii).
Conservation Status:
The dunes sagebrush lizard is not a protected species in Texas and can be legally collected with a hunting license.
Texas Distribution:
In Texas, Sceloporus arenicolous is found in west Texas, restricted to Andrews, Crane, Gaines, Ward, and Winkler Counties.
Distribution Map: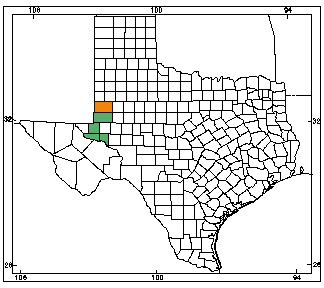 Orange counties indicate new county records since previous Herps of Texas update in 1998; all other colored counties reflect known distribution prior to 1998 for species and/or subspecies. Map is based on museum voucher specimens.