Scientific Name:
Nerodia rhombifer
Diagnostic Features:
Anal plate is divided.
Keeled dorsal scales are in 25 to 31 rows near midbody.
Coloration:
The background color typically light olive-brown dorsally, with the olive becoming brown laterally.

A series of rhomboid-shaped blotches runs the length of the vertebral column, with each of the blotches being connected to another series of vertical black bars found on each side by thin black lines.

Belly is either yellow, olive, or buff and is marked with dark crescents found along the margins of the ventral scales.

Top of the head is a deep olive color and the majority of the supralabial scales are yellow, outlined with black pigment.
Size:
Reaching lengths of 152.5 cm (60 in), Nerodia rhomibfer is usually encountered at lengths of 76-122 cm (30-48 in).
General Distribution:
The range of Nerodia rhombifer covers many states of the lower Mississippi River Valley, found as far north as Iowa; Mexican subspecies of N. rhombifer are found in Mexico and occur along the Atlantic coast of that country.
Behavior:
Along with being a habitat generalist, Nerodia rhombifer is also a food generalist, eating fish, frogs, toads, crayfish and an occasional young turtle. Again, although N. rhombifer is non-venomous, it is a zealous biter and will bite an attacker repeatedly. The attacker is also frequently covered with musky feces released by the agitated snake.
Reproduction:
Nerodia rhombifer is viviparous, giving birth to an average of 47 live young, each of which measure between 20-33 cm (8-13 in). These young snakes are born in the late summer and early fall.
Habitat:
Nerodia rhombifer is the habitat generalist of the watersnakes. They can be commonly found in a variety of water bodies: swamps, rivers, ditches and water tanks; three individuals have even been found floating in a car tire in a pond.
Conservation Status:
The diamond-backed watersnake is not a protected species in Texas and can be legally collected with a hunting license.
Texas Distribution:
In Texas, Nerodia rhombifer is found in a majority of water holes in the eastern half of the state.
Distribution Map: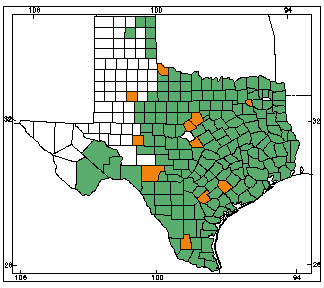 Orange counties indicate new county records since previous Herps of Texas update in 1998; all other colored counties reflect known distribution prior to 1998 for species and/or subspecies. Map is based on museum voucher specimens.