Scientific Name:
Malaclemys terrapin
Diagnostic Features:
Concentric markings on each carapacial scute.

Slight vertebral keel, may be inconspicuous.

Rear marginals flared upward and slightly serrated.

Unhinged plastron.

Strongly webbed feet.

Head small in males, large in females.
Coloration:
Carapace dark (brown, gray, or black); plastron pale or white.

Carapace scutes without light centers.

Dorsal surface of head light (whitish); neck and legs grayish with heavy black spotting.

Jaws light colored.

Eyes black.
Size:
Adult male Malaclemys terrapin range 10-14 cm (4-5.5 in); female M. terrapin are larger, reaching lengths of 15-23 cm (6-9 in).
General Distribution:
In North America, Malaclemys terrapin is found along the Atlantic and Gulf Coast shores of the United States, from Texas to Cape Cod.
Behavior:
This turtle species is physiologically able to live in water with changing salinity, choosing when and if to drink based on the concentration of salt in the surrounding water. This species is also adapted to eating tough, shelled prey, such as crabs, gastropods, and mussels. They are also known to eat fish and aquatic vegetation.
Reproduction:
Nesting season is April through July, although Texas populations may breed earlier. Females are capable of up to five clutches per year in captivity. Number of eggs per clutch in southern populations is around seven. Incubation is likely less than 90 days.
Habitat:
The diamond-backed terrapin is restricted to the brackish waters found in tidal creeks, estuaries, and coastal salt marshes.
Conservation Status:
The diamond-backed terrapin is not a protected species in Texas and can be legally collected with a hunting license.
Texas Distribution:
The single subspecies of Malaclemys terrapin found in Texas, M. t. littoralis is present along the barrier islands of Texas, from the vicinity of Kingsville to Sabine Pass.
Distribution Map: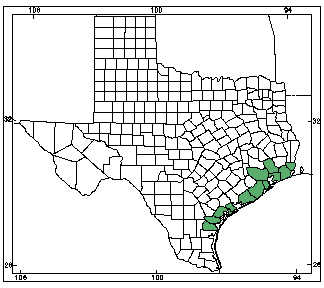 Orange counties indicate new county records since previous Herps of Texas update in 1998; all other colored counties reflect known distribution prior to 1998 for species and/or subspecies. Map is based on museum voucher specimens.