Scientific Name:
Sceloporus magister
Diagnostic Features:
Large lizard with large pointed scales.

Tail longer than head-body length.
Coloration:
Dorsal ground color is light brown or yellow or gray.

Dorsal pattern consists of pale crossbars, two black wedges on the shoulders, and some yellow scales on sides.

Dark line near eye.

Males have blue-green patches on throat and two on belly, black groin.

Mature males may have blue patch on dorsum; females lack blue tones.
Size:
Sceloporus magister is a large lizard species, measuring 17.5-32.5 cm (7-13 in) in total length.
General Distribution:
In North America, Sceloporus magister is found from eastern California and Nevada to west Texas and into northern Mexico.
Behavior:
Sceloporus magister is a wary, diurnal lizard that will quickly retreat will retreat to burrows, vegetation, rock piles or other debris when threatened. Mainly a terrestrial species, Sceloporus magister forages for insects, other lizards, and tender vegetation.
Reproduction:
Breeding occurs in the spring and early summer with young hatching from eggs in mid to late summer. Females may lay multiple clutches of up to 19 eggs perhaps as many as three times a year.
Habitat:
Sceloporus magister prefers arid or semi-arid environments and rocky terrains and grassy plains below 4,000 foot elevations.
Conservation Status:
The desert spiny lizard is not a protected species in Texas and can be legally collected with a hunting license.
Texas Distribution:
The single subspecies of Sceloporus magister found in Texas, S. m. bimaculosus, is found in through western portions of the Trans-Pecos Desert in west Texas.
Distribution Map: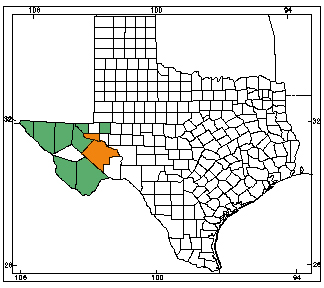 Orange counties indicate new county records since previous Herps of Texas update in 1998; all other colored counties reflect known distribution prior to 1998 for species and/or subspecies. Map is based on museum voucher specimens.