Scientific Name:
Aspidoscelis uniparens
Diagnostic Features:
Slender lizard with a comparatively long tail, about 2 1/2 times the head-body length .

Small dorsal scales with eight rows of large, rectangular scales on the belly.

Enlarged scales on front edge of throat fold and on back of forelimbs.
Coloration:
Dorsal ground color is reddish black.

Dorsal pattern consists of six light stripes running the length of the body and onto the tail.

The stripes on the back are yellow, and those on the sides appear white.

No spots between the stripes.

Ventral surface is light and unmarked.

Blue coloration possible on chin and neck of adults.

Olive or blue-green tail.
Size:
Aspidoscelis uniparens reaches adult lengths of 16-24 cm (6.5-9.5 in).
General Distribution:
In North America, Aspidoscelis uniparens has a small range that includes parts of Arizona, New Mexico, Texas, and northern Mexico.
Behavior:
This diurnal lizard forages for insects, looking beneath leaf litter and rocks for its prey.
Reproduction:
Aspidoscelis uniparens is an all-female species. Reproduction occurs through parthenogenesis. One to four unfertilized eggs are laid in the summer. The hatchlings appear almost two months later. Hatchlings with bright blue tail.
Habitat:
Aspidoscelis uniparens is often observed in arid or semi-arid desert environments with little vegetation; it also may inhabit lower mountainous regions.
Conservation Status:
The desert grassland whiptail is not a protected species in Texas and can be legally collected with a hunting license.
Texas Distribution:
In Texas, Aspidoscelis uniparens is found in the far western part of the state in El Paso County.
Distribution Map: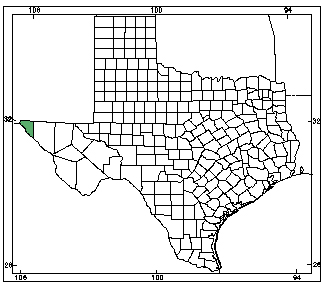 Orange counties indicate new county records since previous Herps of Texas update in 1998; all other colored counties reflect known distribution prior to 1998 for species and/or subspecies. Map is based on museum voucher specimens.