Scientific Name:
Rana areolata
Diagnostic Features:
Stocky frog with rough skin and extensively webbed toes.
Coloration:
Color varies from brown to black with temperature and activity.

Dark dorsal spots outlined in lighter color.

Ventral surfaces plain and white, except throat spotted on sides.

Males may have yellow coloration on dorsolateral folds and on concealed surfaces of limbs.
Size:
Rana areolata grows to an adult size of 7-9.5 cm (2.2-3 in).
General Distribution:
In North America, Rana areolata is found in eastern Oklahoma and Texas, as well as in western Louisiana.
Behavior:
Rana areolata is nocturnal and rarely seen outside of burrows except during breeding season. Rana areolata feeds primarily on crawfish, but eats insects and other frogs.
Reproduction:
Breeding in Rana areolata takes place all year with a peak from February to June; egg masses are laid in shallow water.
Habitat:
Rana areolata can be found in abandoned crawfish holes, small mammal burrows, and storm sewers.
Conservation Status:
The crawfish frog is not a protected species in Texas and can be legally collected with a hunting license.
Texas Distribution:
The single subspecies of Rana areolata found in Texas, R. a. areolata, is found in scattered populations across the eastern third of the state.
Distribution Map: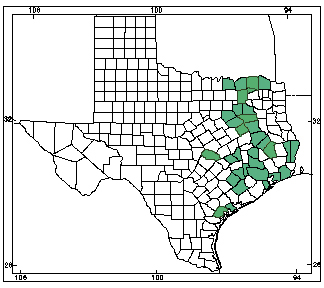 Map is based on museum voucher specimens; last updated 12 November 2014.