Scientific Name:
Pantherophis guttatus
Diagnostic Features:
Scales are faintly keeled along spine, with 27-29 scale rows at midbody.

Divided anal plate.
Coloration:
Dorsal color varies from red to orange, but may tend to brown in upland areas.

Dorsal blotches strongly outlined in black.

Ventral markings include checkered pattern of black on white and striping on the underside of the tail.

Two stripes meet on head to form a point between the eyes
Size:
Adult Pantherophis guttatus reach total lengths of 60-105 cm (24-42 in).
General Distribution:
In North America, Pantherophis guttatus is found from New Jersey to Colorado and from Nebraska to central Mexico.
Behavior:
Pantherophis guttatus is secretive but active in warm months. Generally a calm species, but it may strike if threatened. This snake feeds on small mammals, birds, frogs, and lizards that are killed by constriction. This snake species is nocturnal and remains under the cover of logs and other debris during the day.
Reproduction:
Pantherophis guttatus lays as many as 25 eggs in the late spring/early summer. Young emerge from the eggs in 8-10 weeks measuring 27.5-37.5 cm (11-15 in) in length.
Habitat:
In Texas, Pantherophis guttatus is seen in wooded areas and along the edge of agricultural areas.
Conservation Status:
The cornsnake is not a protected species in Texas and can be legally collected with a hunting license.
Texas Distribution:
In Texas, Pantherophis guttatus is found in the eastern one-fourth of the state.
Taxonomy Notes:
Formerly Elaphe, the North American ratsnakes have been restricted to the genus Pantherophis by Utiger et al. (2002, Russian J. Herpetology 9:105-124).
Distribution Map: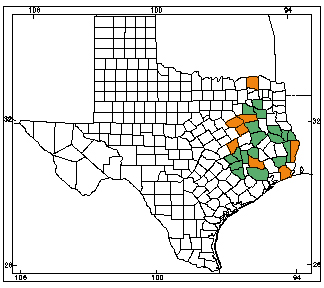 Orange counties indicate new county records since previous Herps of Texas update in 1998; all other colored counties reflect known distribution prior to 1998 for species and/or subspecies. Map is based on museum voucher specimens.