Scientific Name:
Uta stansburiana
Diagnostic Features:
Small lizard with single throat fold.

Middorsal scales are large and keeled.

Long tail.
Coloration:
Dorsal ground color brown, perhaps with blue or orange.

Dorsal pattern consists of blue flecks on dorsum and yellow or orange on the sides. A dark blue or black blotch appears on each side, posterior to the foreleg.

Males with blue flecks and spots on dorsum and turquoise tail; females with pale spots with dark edges and little or no blue coloration.
Size:
Uta stansburiana can reach adult lengths, including tail, of 10-16 cm (4-6.5 in).
General Distribution:
In North America, Uta stansburiana is found across most of the western U.S. and adjacent northern Mexico.
Behavior:
This diurnal lizard has a small territory. When threatened, Uta stansburiana will retreat to a crevice or animal burrow. This lizard species feeds on insects.
Reproduction:
Breeding occurs at anytime of year with favorable conditions. Small clutches are laid, averaging 3 to 4 eggs/clutch.
Habitat:
Uta stansburiana is seen in sandy, rocky arid and semi-arid environments; this terrestrial species may also be seen in desert flats.
Conservation Status:
The common side-blotched lizard is not a protected species in Texas and can be legally collected with a hunting license.
Texas Distribution:
The single subspecies of Uta stansburiana found in Texas, U. s. stejnegeri, is found in the western deserts and southern portions of the Panhandle.
Distribution Map: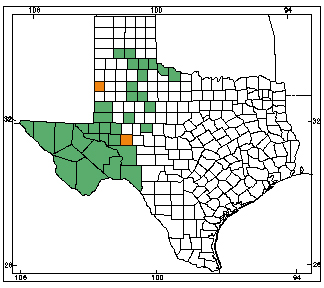 Orange counties indicate new county records since previous Herps of Texas update in 1998; all other colored counties reflect known distribution prior to 1998 for species and/or subspecies. Map is based on museum voucher specimens.