Scientific Name:
Holbrookia maculata
Diagnostic Features:
Two throat folds (one weak).
No external ear openings.
Coloration:
The three subspecies of Holbrookia maculata found in Texas are distinguished by their color and pattern.

Two black diagonal marks on the sides posterior to the forelegs; diagonal marks rimmed in blue on males, less distinct on females .

No markings on ventral surface of tail.
Size:
Holbrookia maculata can grow to lengths of 11-15 cm (4.5-6 in), including tail.
General Distribution:
In North America, Holbrookia maculata has a broad range, from southern South Dakota to Texas and Arizona and into central Mexico.
Behavior:
Holbrookia maculata is an active, diurnal lizard. They shelter in burrows and cover themselves with sand to hide. They feed on spiders and insects.
Reproduction:
Breeding takes place in spring and early summer. Eggs may be laid from May to August, with an average of 5 eggs per clutch.
Habitat:
Holbrookia maculata prefers sandy desert grasslands, areas with sparse vegetation, prairies, farmlands, and dry streambeds.
Conservation Status:
The lesser earless lizard is not a protected species in Texas and can be legally collected with a hunting license.
Texas Distribution:
In Texas, the three subspecies of Holbrookia maculata are present in north Texas, the Panhandle, and west Texas.
Distribution Map: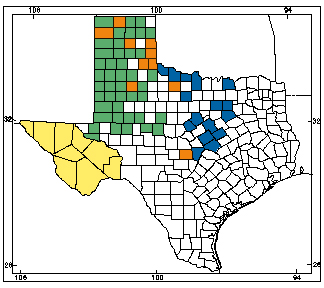 Orange counties indicate new county records since previous Herps of Texas update in 1998; all other colored counties reflect known distribution prior to 1998 for species and/or subspecies. Map is based on museum voucher specimens.