Scientific Name:
Lampropeltis getula
Diagnostic Features:
Smooth, almost glossy scales.
Undivided anal plate.
Coloration:
Characterized by its overall black or black-brown background.

The many (7) different subspecies, however, are discerned by the kind and amount of yellow coloring appearing on the black background and varying amount of yellow pattern. There are only two subspecies found in Texas, L. g. holbrooki and L. g. splendida.

There is a zone of intergradation between the two subspecies (see map below) where individual snakes have a mixture of pattern and scalation characters from both subspecies.
Size:
Lampropeltis getula, when adults, measure between 46-91.5 cm (18-36 in), though L. g. holbrooki is known to grow longer than L. g. splendida (183 cm (6 ft) vs. 154.5 cm (5 ft)).
General Distribution:
The seven subspecies of Lampropeltis getula cover the majority of the southern half of the U.S., found from California to Florida
Behavior:
Lampropeltis getula is a non-venomous constrictor, feeding primarily on other snakes, lizards, and rodents. Common kingsnakes have also been known to feed on reptile eggs, relying on their sense of smell to find most of its prey, including prey buried underground. These kingsnakes are famous for their ability to be immune to rattlesnake venom and they commonly feed on rattlesnakes as part of their diet. Lampropeltis getula may bite hard and vigorously when first handled, but in captivity they often become accustomed to handling and stop biting. Another line of defense is their powerful smelling musk, which they can release from their vent when threatened.
Reproduction:
Both subspecies are egg-layers, mating in the spring and depositing their egg clutches (5-12 eggs) in the early summer. Female L. g. splendida found at night in May and June are often in search of a suitable nest site. Hatchlings emerge in August and September and measure 21.5-25.5 cm (8.5-10 in).
Habitat:
Lampropeltis g. splendida is found in the grasslands and wetter portions of the desert. Roads through areas of agriculture often produce L. g. splendida when driven at night during the summer months. Lampropeltis g. holbrooki is found in wetter habitats, typically seeking shelter under logs and in debris piles found in places such as swamps and stream valleys.
Conservation Status:
The common kingsnake is not a protected species in Texas and can be legally collected with a hunting license.
Texas Distribution:
Lampropeltis splendida is found throughout the majority of the state. The zone of intergradation between the two subspecies, in Texas, is from the Panhandle, along the Red River valley, south through the cross timbers and blackland prairies to the gulf coast marshes, and exclusive of the piney woods found to the east.
Distribution Map: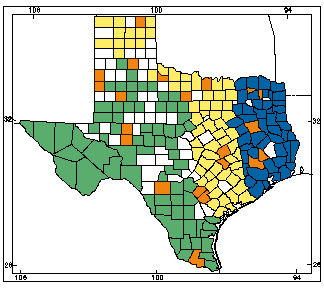 Orange counties indicate new county records since previous Herps of Texas update in 1998; all other colored counties reflect known distribution prior to 1998 for species and/or subspecies. Map is based on museum voucher specimens.