Scientific Name:
Hemidactylus frenatus
Diagnostic Features:
Tail somewhat flattened and as long as body.

Lateral fringe along each side of tail.

Enlarged tubercles near hindlimbs, not along entire dorsal surface.

Broad toe pads.
Coloration:
Dorsal color dark brown to light gray with mottling of pale and dark spots across dorsum.

Pattern of longitudinally arranged pale ovals on dorsum; occassionally irregular longitudinal stripes may be present.

White ventral surface.
Size:
Hemidactylus frenatus reaches an adult maximum length of 11 cm (4.5 in), including tail
General Distribution:
In North America, Hemidactylus frenatus, a native of southeast Asia and the East Indies, has been introduced globally and can be found in many urban areas around the world.
Behavior:
A nocturnal gecko species, Hemidactylus frenatus primarily eats insects, though other geckos have been consumed. Peak activity is during the first few hours after sunset. When present in Texas, this species can be found feeding on nocturnal insects around artificial lights outside human dwellings.
Reproduction:
Lays two eggs per clutch; can lay eggs year round in warm climates. Egg incubation can be 1.5-2.5 months.
Habitat:
In its native habitat, Hemidactylus frenatus is found in disturbed areas. This species has been introduced around the world, thriving around human habitations.
Conservation Status:
The house gecko is not a protected species in Texas and can be legally collected with a hunting license.
Texas Distribution:
In Texas, Hemidactylus frenatus has only been found (introduced) in Dallas and Galveston Counties.
Distribution Map: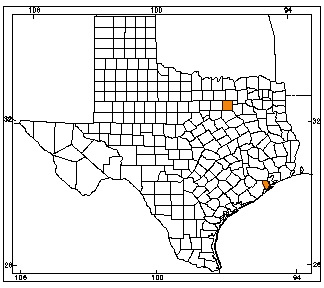 Orange counties indicate new county records since previous Herps of Texas update in 1998; all other colored counties reflect known distribution prior to 1998 for species and/or subspecies. Map is based on museum voucher specimens.