Scientific Name:
Thamnophis sirtalis
Diagnostic Features:
Keeled dorsal scales in 19 rows near midbody.
Undivided anal plate.
Coloration:
White supralabials outlined with black pigment.

There are four subspecies in Texas, united together by having varying amounts of red or orange pigmentation found between or on the dorsal scales.
Size:
Adult Thamnophis sirtalis measure between 46-71 cm (18-28 in) in length.
General Distribution:
Thamnophis sirtalis is found across much of the U.S. and southern Canada, with additional populations extending into parts of northern Mexico.
Behavior:
The generalistic feeder (and non-venomous) Thamnophis sirtalis eats whatever appropriately sized prey it can find. Adults primarily eat amphibians, fish and insects, with juvenile T. sirtalis eating a greater proportion of earthworms and insects than do adults. Birds, mammals, and mollusks are also taken as prey items.
Reproduction:
During the summer and fall, females Thamnophis sirtalis give live birth to an average of 26 young snakes, each of whom measure between 13-23 cm (5-9 in).
Habitat:
Found primarily in lowland habitats in Texas, Thamnophis sirtalis lives in areas with standing or running water, but can also be seen in open or edge habitats.
Conservation Status:
The common gartersnake is not a protected species in Texas and can be legally collected with a hunting license.
Texas Distribution:
In Texas, all four subspecies of Thamnophis sirtalis are uncommonly encountered, with populations scattered along the upper Gulf Coast, central and north-central Texas, the Red River Valley, and the eastern edges of the Panhandle. Thamnophis s. dorsalis is historically known only from the El Paso area in far west Texas, though individuals have not been found in years.
Distribution Map: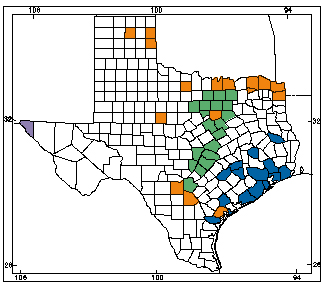 Orange counties indicate new county records since previous Herps of Texas update in 1998; all other colored counties reflect known distribution prior to 1998 for species and/or subspecies. Map is based on museum voucher specimens.