Scientific Name:
Plestiodon fasciatus
Diagnostic Features:
Small, cylindrical lizard with a pale, unmarked ventral surface.

Glossy scales and a long tail.
Coloration:
Dorsal ground color varies with age and sex: juveniles are deep black with bright blue tails; adult females are olive brown with gray tails; adult males are brown or olive brown.

Dorsal pattern, if present, consists of five light stripes down the length of the back and onto the tail.

Males tend to be larger than females.

Males tend to lose their markings.

Males have red coloration on head during breeding season.
Size:
Adult Plestiodon fasciatus can measure 12.5-20 cm (5-8 in) in total length (including tail).
General Distribution:
In North America, Plestiodon fasciatus has a broad range from the East Coast west to Kansas and from the Great Lakes region to the Gulf Coast.
Behavior:
Plestiodon fasciatus is a diurnal skink that forages for insects, insect larvae, spiders, and small vertebrates in and around rotting trees.
Reproduction:
Breeding occurs in the spring. Females lay 6-12 eggs in a rotting log or under a rock between late May and early July. Female brooding is exhibited. Hatchlings appear five to six weeks after eggs are laid..
Habitat:
Plestiodon fasciatus can be found in urban areas, but is more commonly seen in damp, wooded areas with lots of leaf litter and decaying logs.
Conservation Status:
The common five-lined skink is not a protected species in Texas and can be legally collected with a hunting license.
Texas Distribution:
In Texas, Plestiodon fasciatus is found in the eastern third of the state.
Taxonomy Notes:
The North American skinks (north of Mexico) previously placed in the genus Eumeces are now restricted to the genus Plestiodon (Brandley et al. 2005, Systematic Biology 54:373-390).
Distribution Map: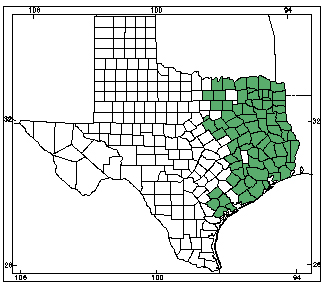 Orange counties indicate new county records since previous Herps of Texas update in 1998; all other colored counties reflect known distribution prior to 1998 for species and/or subspecies. Map is based on museum voucher specimens.