Scientific Name:
Aspidoscelis tesselata
Diagnostic Features:
Slender lizard with a comparatively long tail, about 3 times the head-body length.

Small dorsal scales and eight rows of large, rectangular scales on the belly.
Coloration:
Dorsal ground color and pattern vary widely; typically, the pattern is black spots or bars arranged in a checkered manner on a light ground color and there may be six light stripes.

Forelimbs are light with dark spots and hind limbs are dark with light spots.

Ventral surface is light with possible dark flecks on chin and chest.

Yellow or light brown tail with spots on sides.
Size:
Aspidoscelis tesselata is the largest whiptail species found in Texas, growing to adult total lengths of 16-24 cm (6.5-9.5 in).
General Distribution:
In North America, Aspidoscelis tesselata has a relatively small range that includes parts of Colorado, Oklahoma, New Mexico, Texas, and northern Mexico.
Behavior:
This diurnal lizard forages for insects, scorpions, and spiders. It prefers to live in small, isolated groups.
Reproduction:
Aspidoscelis tesselata is an all-female species. Reproduction occurs through parthenogenesis. Two to eight unfertilized eggs are laid in the summer. Hatchlings appear in August.
Habitat:
Almost always associated with rocky terrains, the habitat of Aspidoscelis tesselata varies from open plains to canyons to foothills.
Conservation Status:
The common checkered whiptail is not a protected species in Texas and can be legally collected with a hunting license.
Texas Distribution:
In Texas, Aspidoscelis tesselata is found in the western part of the state, as well as in the western part of the Panhandle.
Distribution Map: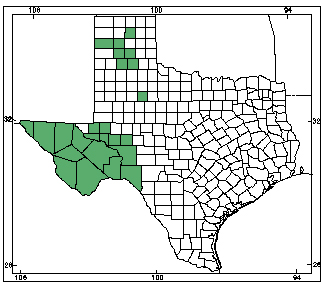 Orange counties indicate new county records since previous Herps of Texas update in 1998; all other colored counties reflect known distribution prior to 1998 for species and/or subspecies. Map is based on museum voucher specimens.