Scientific Name:
Eurycea tridentifera
Diagnostic Features:
Slender body
Large head with sloping forehead and flattened snout.

Reduced eyes under surface of skin.

Bright red external gills.

Elongated limbs and finned tail.

Four toes on front feet, five on hind feet.

Eleven or twelve costal grooves.
Coloration:
White or yellowish with translucent skin.
Size:
Eurycea tridentifera can grow to a maximum adult size of 8.5 cm (3.4 in) total length.
General Distribution:
Eurycea tridentifera is only found in Texas.
Reproduction:
Little is known for Eurycea tridentifera, other than seven to eighteen eggs are laid.
Habitat:
Strictly aquatic, Eurycea tridentifera is found in the underground waters of limestone caves.
Conservation Status:
The Comal Blind salamander is considered a threatened species by the Texas Parks and Wildlife Department and is fully protected by the state.
Texas Distribution:
Eurycea tridentifera is found only in Bexar and Comal Counties of Texas.
Distribution Map: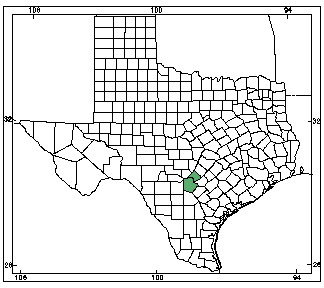 Orange counties indicate new county records since previous Herps of Texas update in 1998; all other colored counties reflect known distribution prior to 1998 for species and/or subspecies. Map is based on museum voucher specimens.