Scientific Name:
Plestiodon anthracinus
Diagnostic Features:
Small, cylindrical lizard with a pale, unmarked ventral surface.

Glossy scales and a long, easily broken tail.
Coloration:
Dorsal ground color is olive brown.

Dorsal pattern consists of two light stripes from the neck onto the tail on each side with a darker coloration between them.

Males have red coloration on head during breeding season.
Size:
Plestiodon anthracinus reaches adult lengths of 12.5-17.5 cm (5-7 in), including tail.
General Distribution:
In North America, Plestiodon anthracinus is found from Missouri and Nebraska to Texas and Louisiana, in parts of Alabama, Mississippi, Florida, and Georgia.
Behavior:
Plestiodon anthracinus is a diurnal skink that avoids capture by slipping into the water and hiding under stones or debris. This skink species feeds on adult insects and insect larvae.
Reproduction:
Egg clutches (average 8 or 9 eggs) are laid in June with the female remaining to guard the nest from predators. Eggs typically hatch after 30 days.
Habitat:
Plestiodon anthracinus is seen on wooded hillsides near creeks or streams in moist, humid environments.
Conservation Status:
The coal skink is not a protected species in Texas and can be legally collected with a hunting license.
Texas Distribution:
The single subspecies of Plestiodon anthracinus found in Texas, P. a. pluvialis, is found in the northeastern part of the state.
Taxonomy Notes:
The North American skinks (north of Mexico) previously placed in the genus Eumeces are now restricted to the genus Plestiodon (Brandley et al. 2005, Systematic Biology 54:373-390).
Distribution Map: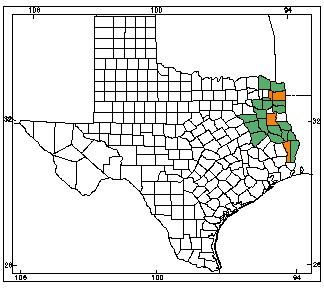 Orange counties indicate new county records since previous Herps of Texas update in 1998; all other colored counties reflect known distribution prior to 1998 for species and/or subspecies. Map is based on museum voucher specimens.