Scientific Name:
Eleutherodactylus marnockii
Family:
Eleutherodactylidae
Diagnostic Features:
Flattened head and body, with a proportionately large head and a wide space between the eyes.
Coloration:
Dorsal coloration has a greenish ground color with brown mottling.

Crossbar pattern is also present on hind limbs.
Size:
Eleutherodactylus marnockii reaches an adult length around 2-4 cm (0.75-1.5 in).
General Distribution:
In North America, Eleutherodactylus marnockii is found in south-central Texas.
Behavior:
Eleutherodactylus marnockii is nocturnal. This species can run, as well as leap and hop, to seek shelter and will quickly (and easily) slip into cracks to evade predators.
Reproduction:
Breeding in Eleutherodactylus marnockii peaks in April and May, but egg deposition may occur from February to December; females may lay eggs up to three times a year.
Habitat:
Eleutherodactylus marnockii is frequently found in limestone cliff crevices and cracks.
Conservation Status:
The cliff chirping frog is not a protected species in Texas and can be legally collected with a hunting license.
Texas Distribution:
In Texas, Eleutherodactylus marnockii is restricted to the Hill Country and Edwards Plateau.
Distribution Map: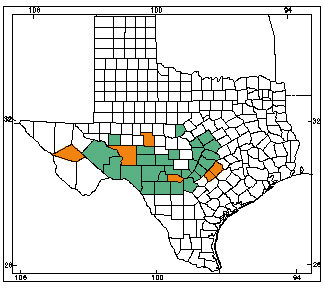 Orange counties indicate new county records since previous Herps of Texas update in 1998; all other colored counties reflect known distribution prior to 1998 for species and/or subspecies. Map is based on museum voucher specimens.