Scientific Name:
Aspidoscelis exsanguis
Diagnostic Features:
Slender lizard.
Narrow head.
Small, granular dorsal scales with enlarged scales on back of forelimbs and on front edge of throat fold.

Belly with 8 rows of large, rectangular scales.

Comparatively long tail, about 3 times the head-body length.
Coloration:
Dorsal ground color is brown or red-brown.

Dorsal pattern consists of 6 light stripes that run from the head to the hips. The stripes are pale yellow to beige with light colored spots occurring on and between the stripes.

Ventral surface is white or pale blue.

Tail is grayish blue to green.
Size:
Adult Aspidoscelis exsanguis grow to 24-31 cm (9.5-12.5 in) in total length.
General Distribution:
In North America, Aspidoscelis exsanguis is seen in the Chihuahuan Desert of Texas, New Mexico, Arizona, and Mexico.
Behavior:
This diurnal lizard actively forages for insects in leaf litter and debris. Aspidoscelis exsanguis is seen in the open, but remains near protective cover.
Reproduction:
This species is made up of all females; there are no males of Aspidoscelis exsanguis. Reproduction occurs through parthenogenesis. One to six unfertilized eggs are laid in mid- to late summer. Hatchlings appear six weeks later.
Habitat:
This upland lizard can be seen in a variety of habitats ranging from desert grasslands to rocky slopes to canyon bottoms, or similar areas subject to periodic flooding.
Conservation Status:
The Chihuahuan spotted whiptail is not a protected species in Texas and can be legally collected with a hunting license.
Texas Distribution:
In Texas, Aspidoscelis exsanguis is found across the western half of the Trans-Pecos region.
Distribution Map: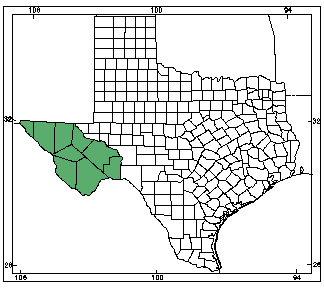 Orange counties indicate new county records since previous Herps of Texas update in 1998; all other colored counties reflect known distribution prior to 1998 for species and/or subspecies. Map is based on museum voucher specimens.