Scientific Name:
Hypsiglena jani
Diagnostic Features:
Nightsnakes have strongly elliptical eyes which appear to be bulging out of the head.

Divided anal plate, and smooth scales in rows of 21 at midbody.
Coloration:
Background color ranging from light brown to grey, with a series of dark, irregularly shaped oval blotches running down the middle of the back.

Can also have a series of dark lateral blotches, also running the length of the body.

Presence of two lateral black bars and a single bar behind the head are characters which make Hypsiglena quite distinct from other desert snakes.

White or cream belly that is free of pigment.
Size:
Adult nightsnakes measure between 25.5-40 cm (10-16 in) in length.
General Distribution:
The distribution of Hypsiglena jani ranges from the western halves of Oklahoma and Texas westward through New Mexico, eastern Arizona and southern Colorado. Chihuahuan Nightsnakes are also found in many northern portions of Mexico.
Behavior:
Nightsnakes are venomous, though they are not known to bite humans, even when handled. The venom is toxic only to its prey of lizards, snakes, and various arthropods of the desert, with the venom delivered through enlarged teeth in the rear of its mouth. Typically active from April to October.
Reproduction:
Nightsnakes are egg layers, depositing clutches of 4 to 6 eggs late spring-early summer. Hatchlings emerge two months later around 12.5-18 cm (5-7 in) in length.
Habitat:
Nightsnakes are nocturnal snakes often found in rocky, arid habitats, and can commonly be found crossing roads at night.
Conservation Status:
The nightsnake is not a protected species in Texas and can be legally collected with a hunting license.
Texas Distribution:
The single subspecies of Chihuahuan Nightsnake found in Texas, H. jani texana, is found in the more arid western two-thirds of the state.
Taxonomy Notes:
Following a thorough molecular analysis, Hypsiglena jani was recently elevated to species status from a subspecies by Mulcahy in 2008 (Mol. Phylo. Evol. 46: 1095-1115)
Distribution Map: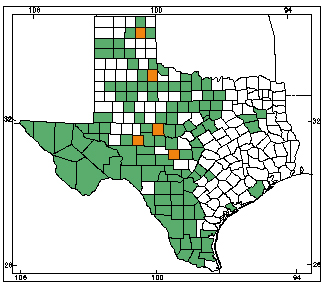 Orange counties indicate new county records since previous Herps of Texas update in 1998; all other colored counties reflect known distribution prior to 1998 for species and/or subspecies. Map is based on museum voucher specimens.