Scientific Name:
Gyalopion canum
Diagnostic Features:
Upturned rostral scale.
Divided anal scale.
Dorsal scales are smooth, in 17 rows at midbody, but have apical pits.
Coloration:
Dorsal background color is pale brown with as many as 48 dark brown crossbands found down the spine.

Cream colored belly, with strong brown markings on head.
Size:
Adult Chihuahuan hook-nosed snakes generally measure 18-28 cm (7-11 in) in length (record length: 35.5 cm (14 in)).
General Distribution:
Gyalopion canum, a Chihuahuan Desert endemic, is found in parts of west Texas, areas of southern New Mexico and Arizona, and northern and central Mexico.
Behavior:
Chihuahuan hook-nosed snake is a small, but robust, non-venomous inhabitant of the Chihuahuan Desert that feeds on a variety of arthropods, specializing on spiders and scorpions. They have also been known to eat other snakes and an occasional mammal. Gyalopion canum can be a common snake to find after the rains, though others comment that it can be found throughout the summer. Though not a fast moving species, the Gyalopion canum is a skillful burrower using its nose to plow through the looser soils of the desert. It can be found under rocks as well as crossing roads during the hotter summer nights. When captured, it is unlikely to bite, instead relying on its defense mechanism of everting and contracting its cloaca through its vent to produce a startling "popping" sound.
Reproduction:
Little is known about its reproductive natural history, save that it is an egg layer, with two clutches of one and four eggs found in the literature.
Habitat:
Gyalopion canum can be found in the shortgrass prairies of the Chihuahuan Desert, and less often, in the oak-juniper savannahs on the Edwards Plateau. They also can be found in rocky areas, in deposits of loose soil, and in grassy desert flats.
Conservation Status:
The Chihuahuan hook-nosed snake is not a protected species in Texas and can be legally collected with a hunting license.
Texas Distribution:
In Texas, Gyalopion canum is found in the Trans-Pecos, eastward to Gillespie County, and northward to Dickens and King Counties on the Stockton Plateau.
Distribution Map: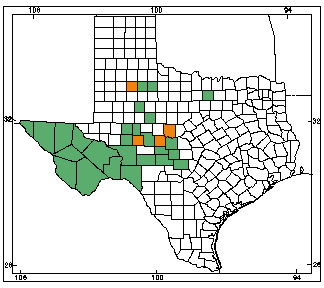 Orange counties indicate new county records since previous Herps of Texas update in 1998; all other colored counties reflect known distribution prior to 1998 for species and/or subspecies. Map is based on museum voucher specimens.